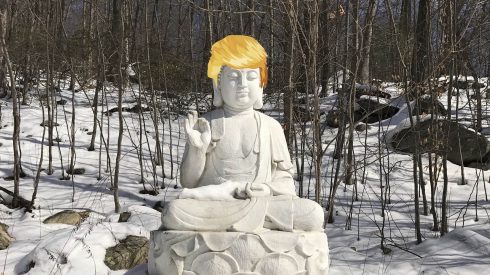 What Did Donald Trump Teach Me About Love?
I've meditated my way from panic to peace.
I've studied with mystical rabbis, Buddhist monks, and attended Quaker silent meetings. I also co-authored a book about the power of interfaith dialogue and toured the country speaking to thousands of people about mutual respect and understanding in churches, synagogues, mosques, schools, and community centers.
So I can't bring myself to hate Donald Trump.
That's just not part of my spiritual practice.
But I can only take so much.
I'm a New Yorker, so I've been cringing at his self-aggrandizing shtick for decades.
I've laughed about his crazy hair.
I've cried over his treatment of immigrant families, a gold star mother and father, a journalist with a disability, Congresswomen of color, courageous scientists, and terrified citizens caught between difficult decisions during a pandemic…And more. So much more.
He's the worst kind of bully.
He revels in being cruel.
He hurls hideous insults at people with glee.
And now he's threatening to shoot protestors on the streets of our cities.
That scares me.
I'm not going to lie.
I'm kind of a wuss (also known to his fans as a snowflake, which I'll take as a compliment since snowflakes are uniquely beautiful…)
But I'm a wuss who's written two NYT bestsellers.
(I know…the failing NYT means nothing in Trumpland, but I worked really hard to make that list.)
I'm also a woman of a certain age (invisible to Donald) who hangs out quite a bit on Facebook. But ranting about him there has gotten me nowhere. In fact watching other people post venomous rants actually inspired me to write this piece.
Because – like them – I've harbored hate in my heart.
There.
I've said it.
Bless me God, Allah, Jesus and Buddha for I have sinned.
I've marched, donated to political candidates who inspire me, canvassed for them and written postcards.
But I've also wished that Trump would be impeached, convicted, jailed and humiliated.
And where did that get me?
"Holding onto anger is like holding onto a hot coal," the Buddha famously said. "You're the one who gets burned."
And I've been burned.
We've all been burned.
Right now we're all safely locked in our houses if we're lucky, and losing loved ones, our jobs, our own lives, and faith in mankind if we're not. We're finding it hard to know who to trust, where to seek help, and wondering what life will look like in the future. Or simply tomorrow…
But as I sit in silence for long periods of time, writing and worrying, I'm thinking of all the wise teachers I've learned from over the years, spiritual thinkers who've advised me to dig deep. And to aim high.
And so – on a good day – I make this vow to myself:
I'm going to focus on love.
That's going to be my mission for whatever time I have left in this body on this planet.
I can imagine some people snickering.
Marianne Williamson famously spoke about love on the stage of the Democratic debates and she was mocked mercilessly all over social media. (Of course she also spoke about unnecessary wars, economic justice, race and health care…)
But she's on her own mission.
We all are.
And here's mine:
I'm going to find a way to turn away from all the hate, fear, disgust, anger and hopelessness that I see all around me.
I'm going to focus on love.
And kindness.
And compassion.
Back when Republicans and Democrats (some of them at least) were still collaborating with each other legislatively, Newt Gingrich was the focus of my political rage. I was just beginning to develop a meditation practice, and I'd devised a little exercise for myself in order to try and cultivate loving kindness, which was the essence of the Buddhist teachings I was studying at the time.
I know it sounds weird, but here's what I did.
When a meditation teacher urged me to bring to mind someone I found to be difficult and challenging, I thought of Newt Gingrich and his wife Clarissa. (She was a good visual for me because of her distinctive hairstyle.) I'd imagine the two of them in their swanky DC digs, sleeping peacefully. (Nothing X-rated, I swear.) And then I'd hover above them for a moment and wish them a good night's rest.
Ok, this is sounding very strange.
But don't worry. I don't tuck Donald and Melania into bed at night.
I don't even call them to mind when I'm trying to cultivate lovingkindness.
(I'm not that great at meditation!)
But I do use Donald to challenge myself.
Last Christmas, after the beloved Buddhist teacher Ram Das died, a friend posted a quote of his, and I recognized a soul mate.
I have to work hard to keep my heart open to people whose policies I disagree with, said Ram Dass in a lecture from the 90's. I have a holy table with pictures on it of Buddha and Christ and Maharajji, my guru…and I used to have Casper Weinburger – the Secretary of Defense under Ronald Reagan –  on the table but now I have replaced him with Bob Dole. So in the morning, I say 'Good Morning Christ! Hello Buddha! Good Morning Maharrajji! Hello Bob!
I'm not going to place a photo of Donald on my nightstand shrine. (I don't sleep very well as it is, and that space is reserved for my mother's old Buddha, a favorite Quanyin figurine, and childhood photos of my sons…)
But here's what I did instead:
A while back, I wrote a post on Facebook asking people to share with me the goodness that they see all around them. To tell me about the righteous people they know who are doing righteous work at a time when those kinds of stories don't get much coverage.
And people responded immediately and enthusiastically. They couldn't wait to tell me about people they admired who were doing great things, inspiring others to do good things as well.
In the Jewish tradition, there's a concept called Tikkun Olam, which means repairing the world. I felt my heart soar when I was reminded of how many people are working hard to repair our fragile, broken world every single day.
I felt the love I was seeking instantly.
And it inspired me to be best.
Seriously.
Now I want to savor that love and spread the word about it.
I want to find good, be good and do good.
Every day.
And I'm going to need all the help I can get in order to do that.
All hands have to be on deck.
Before we can get people to work with each other in any meaningful way – across party lines and racial lines and socio-economic lines – we have to remind people how powerful it is to simply love one another.
I'm not alone in my quest to bring love into the public square; other people are actually beginning to talk about love in connection with politics. The social critic and political activist Cornel West has been eloquent on the topic for some time, proclaiming that social justice is what love looks like in public.
Love belongs in the news, at every political discussion, on social media and in The White House. I'm going to continue asking people for their stories about love in action, so that I can amplify that love through my writing.
I've learned from the child of Holocaust survivors about what a privilege it is to know joy in the midst of suffering, and how important it is not to squander that joy.
I've learned how people access it by volunteering in their local houses of worship, community centers and schools, without seeking any public recognition. I love the story of a man in Brooklyn who's filling abandoned refrigerators with food for anyone who needs it. If that's not love in action, I don't know what is.
So Donald Trump – through his callousness and lack of humanity – has taught me huge lessons about love and compassion.
I've learned that sometimes we don't know what we've got 'til it's gone.
It took a brazenly cruel man to show us what we are missing in this country – equity in terms of who we respect, honor and elevate to celebrity. The ability to listen and empathize. Public displays of true, consistent affection.
Kindness needs to become sexy now.
So does love and mutual respect.
We'll know it when we see it.
Because we miss it when it's gone.