One woman's journey from panic to peace
After suffering from debilitating panic attacks for decades, I learned about a group of Tibetan monks who meditated so successfully that neuroscientists were studying their brains. "I want the brain of a monk!" I decided right then and there. I longed to experience peace and tranquility, to cultivate compassion and lovingkindness. So I researched powerful psychotherapy techniques for trauma and inspiring spiritual teachers. Then I outlined my own path to healing. "Forget Physician Heal Thyself," I wrote."My new mantra will be "Neurotic heal thyself…and please stop complaining!"
"Priscilla Warner's search for inner peace will resonate with anyone who has ever been anxious or at sea."
I learned how to meditate and developed a daily practice. I also benefited enormously from Somatic Healing and EMDR therapy. I sampled spiritual chanting, meditative painting, and immersion in a Jewish ritual bath. I encountered mystical rabbis who taught me Kabbalistic lessons, and attended silent retreats with compassionate Buddhist mentors. After calming down long enough to examine my colorful, sometimes troubling family history in a new light, I ultimately made peace with my past. And I received corroboration that I'd healed from a neuroscientist who scanned my brain for signs of progress and change.
Learning to Breathe is my attempt to heal from a painful condition, and a guidebook for people similarly adrift or secretly fearful, facing daily challenges large and small. I hope it encourages readers to pursue their own paths toward a sense of peace, self-acceptance and understanding. There are so many different ways to heal, and so many resources available to help you address your own suffering.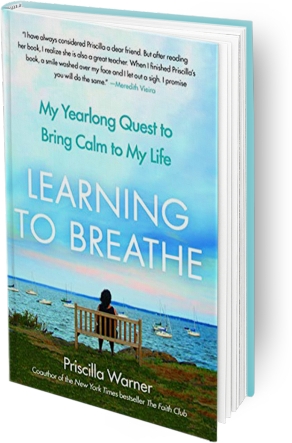 Wise, searching, fearless, and big-hearted, Priscilla Warner's search for inner peace will resonate with anyone who has ever been anxious or at sea—in other words, all of us. She is a comforting and stabilizing guide through her own life—and ours. This book is a gift.
—Dani Shapiro
Author of Inheritance—A Memoir of Genealogy, Paternity and Love
In the aftermath of the terrorist attacks of 9/11, I met two other women living in New York City who were as frightened and confused as I was about the dangerous intersection of religion and politics. We began a series of urgent, sometimes brutally honest conversations about our misperceptions, fears and prejudices. And then we chronicled our relationship in a groundbreaking memoir that has changed interfaith discussions around the world.
The world needs this book… —Library Journal
In our memoir of spiritual reflections and verbatim conversations, we wrestle with the issues of anti-Semitism, prejudice against Muslims, and preconceptions of Christians at a time when fundamentalists dominate the public face of Christianity. We share lessons we've learned from our losses and grief, along with our fears and hopes for ourselves and our loved ones. Readers watch the blossoming of a profound interfaith friendship and the birth of a new way of relating to others.
The Faith Club has spawned interfaith discussion groups in living rooms, churches, temples, mosques, and classrooms. In a final chapter, we provide detailed advice on how to start a faith club.
Pioneering, timely, and deeply thoughtful, The Faith Club's caring message has resonated with people of all faiths.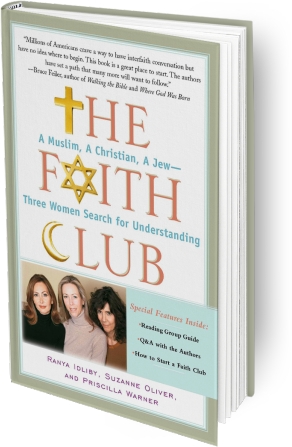 An invitation to discussion that's hard to turn down—and a natural for book groups.
—Kirkus Reviews
Brimming with passion and conviction…this is essential reading for anyone interested in interfaith dialogue.
—Booklist
The authors have set a path that many more will want to follow
Millions of Americans crave a way to have interfaith conversation but have no idea where to begin. This book is a great place to start. The Faith Club is unfailingly honest, always engaging, and even suspenseful. The authors have set a path that many more will want to follow. I raced to the end to see how it all turned out. Hurrah!
—Bruce Feiler
Author of Walking the Bible and Where God Was Born
How Does That Make You Feel?
True Confessions from Both Sides of the Therapy Couch
Readers of HOW DOES THAT MAKE YOU FEEL? will never again have to wonder, "What does my therapist really think of me?"
"Funny, smart, frustrating, heartbreaking, but above all honest—true tales of that most private of relationship between therapist and client. Told from both sides of the couch, but always from the heart." —Judith Sills, author of The Comfort Trap
This anthology, edited by Sherry Amatenstein, is the first ever to feature essays about this profound connection from the perspective of both the 'shrink' and the 'shrunk'. Of course your therapist has thoughts about you that on occasion practically leap off his or her tongue into your ears. But at the last minute the impulse is reigned in and the therapist mask prevails.
In this book the mask is ripped off, revealing what it's like to hate a patient, feel incompetent to be a therapist, what it feels like to us when you say goodbye and much, much more. And from the other side of the couch, the book covers everything from being pressured by a body-shaming therapist to drop 30 pounds to how a relationship with a beloved therapist morphed into friendship after the latter's career-ending stroke to realizing decades later that your long-ago therapist was sexually inappropriate!
"These searingly honest essays brilliantly capture the uniquely complicated relationships that therapists and patients share in the course of trying to navigate our lives. If you've ever revealed your most private hopes, dreams, fears, and longings with a stranger in a high-backed chair—or been that stranger in a high-backed chair—you'll be so engrossed by these stories that you may end up skipping your session."
—Lori Gottleib, bestselling author of Maybe You Should Talk to Someone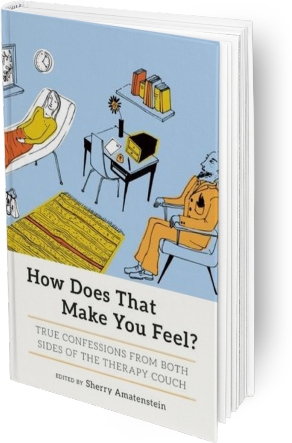 "This book is as engrossing and illuminating as a volume of good short stories. It explores the hidden, fascinating nooks, crannies, and complications of the complex relationship between therapist and patient, a subject that turns out to be endlessly fascinating. One feels the presence of Amatenstein's humane, sensitive, and experienced hand in a collection that is wide-ranging and comprehensive in it's range of issues. Many talented writers on view. Many thought-provoking moments. You don't have to have been on the couch to enjoy this book. All that is necessary is an interest in people and the struggles of modern life."
—George Hodgman, bestselling author of Bettyville
"With rapier wit and a big dose of humanity, Sherry Amatenstein and the amazing writers she has assembled ask us to look at ourselves. And I think we'll be better for it."
—Jenny Lumet, actress and award-winning screenwriter of Rachel Getting Married