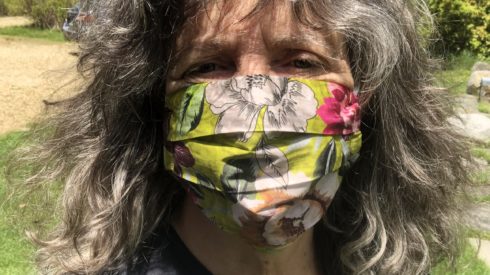 How to Listen
I've written a million words over the last decade, and who knows how many words I've spoken?
So it's not easy for me to keep my mouth shut. Or my fingers from flying across a keyboard.
But I've learned so much by doing that over the last three months.
In fact, you might say that practicing silence as a privileged white woman has been a privilege.
So I recommend it to a lot of people.
White people, to be precise.
I don't advocate being totally silent, of course. I can't imagine life without speaking up about important issues, or being able to communicate with the people I love. But when George Floyd was murdered by a police officer on May 25th, setting off protests and a reckoning that is ongoing three months later, I realized that I had a lot to learn. So I decided to press pause on my writing and go meet some new people who could become my teachers.
And I'm featuring some of them here, for others to meet as well.
It's amazing how much you can learn when you stop talking and start listening.
Want a wake up call?
Welcome to being a black woman in a white elevator. At the Waldorf Astoria in New York City:
(Click on her photo below and listen to every word…)
Powerful, right?
I'll remember that elevator anecdote forever.
And here are the two quotes she referenced, fyi:
"Neutrality helps the oppressor, never the victim." – Elie Weisel
"Whoever is not with me is against me. And whoever does not gather with me scatters." – Mathew 12:30
The next person I discovered took my breath away in a totally different way.
Janaya Future Khan is a mesmerizing, charismatic storyteller, activist, and International Ambassador for Black Lives Matter who, according to Wikipedia, "identifies as black, queer and gender non-conforming."
Janaya's generosity of spirit moved me from the start of this fantastic sermon, which forcefully lays out the ways in which white people have to acknowledge their privilege, especially during this period when "there's a feeling of fatigue and despair and righteous rage." That tension inside of you, Janaya explained "is what happens when your spirit and your heart and your mind and your body try to align…It's the thing that connects us as people when we know that something is wrong."
Who is this person? I wondered in that moment. Who is this person whose heart is so vast and wise and welcoming and unafraid?
I was moved to tears repeatedly by Janaya's courage and compassion. And I can tune in every Sunday to another sermon!
On the same day that I discovered Janaya, Vogue UK published this piece which delves into the issues of that very first powerful one:
There is hardly a more loaded word that was intended for good than "privilege", writes Janaya. Because our society does not teach us a sense of social responsibility that meaningfully educates us about each other and the lopsided power structure we live in, most people were learning about the concept of "privilege" for the first time when I said it.
Every time I said "privilege," many people thought I was saying they had never been through anything in their life – and it is such a human thing to be protective of the story of yourself, that which has shaped the person you've become. But privilege isn't about what you've gone through; it's about what you haven't had to go through. And right now we are in a time that is calling on all of us to learn the stories that we don't know.
@JanayaTheFuture's video is described as "a sermon on the project of whiteness." It's been viewed almost 3 million times by now, and I imagine viewers – like me – have never forgotten how powerful a message it is. Want to meet an extraordinary human being who will challenge you and inspire you to rethink life in the very best way? Click on the link below. (And watch the sermons every Sunday on Instagram!)
Next I met Louise Hazel online – an English track and field athlete who proclaimed that "2020 has the ability to be the most important year of your life.":
"Maybe we are being asked to sit our asses down and look internally at our lives at what is no longer serving us," she said. "Maybe we are being asked to embrace something different…self love, love, community, unity, service, activity. Maybe we are asked to leave behind scarcity mindsets and toxicity. Maybe we are being asked to embrace abundance and empathy and compassion for others."
I discovered a fantastic bookstore online, called The Lit Bar, started by a woman named Noelle Santos, whose website bio inspired me to start ordering books from her link.
When she was 16, Santos started living on her own, and later attended the Bronx-based Lehman College for both her bachelor's degree in accounting and master's degree in human resources management. While she was able to graduate from college, a milestone for only 20% of the Bronx population, she lost friends to street violence or police brutality. "I am a woman, I am a millennial, a Puerto Rican, I'm African American. I live in the poorest congressional district in the United States," the 33-year-old entrepreneur says. "I can't pinpoint which part of my identity holds me back. I try not to focus on that, but I know that I have to run 10 times faster than anyone else to get things done."
Meet Noelle here!
I don't think there's a more moving way to end this post than by sharing a video made about Rayshard Brooks, a father of three who was killed by the police in Atlanta parking lot on June 12th.
Listen to his story. Say his name. And remember his words. Forever: